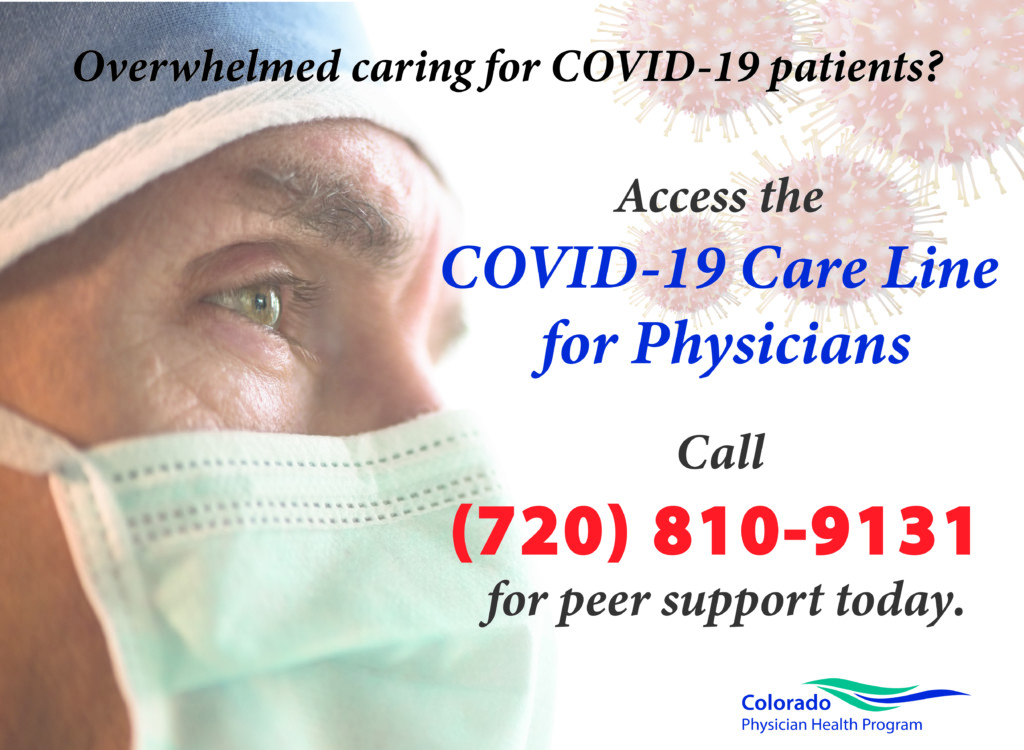 Colorado Physician Health Program (CPHP) is pleased to announce the COVID-19 Care Line for Physicians (Care Line) for any Colorado physician or physician assistant. The Care Line helps those who are serving patients during this challenging time. You may also find additional resources for physicians here or general resources here.
By contacting the Care Line at 720-810-9131, you will be linked with a physician peer who will listen and discuss stresses associated with the COVID-19 crisis, and caring for those suffering from the disease. Calls to the Care Line are free of charge, are not treatment, but rather an opportunity for peer support in a confidential environment. Information provided by users will be kept confidential to the extent allowed by law.
The Care Line is available Monday through Friday from 8:30am to 4:30pm, and additional support phone calls (or video chats) can be scheduled after hours. If you are experiencing a medical or psychiatric emergency, you should contact 911. If you are a current CPHP participant, please call our main line at (303) 860-0122 or after hours, our clinical pager at (303) 916-8837.
As of March 17, 2020 our offices will be heeding the government's recommendation to work remotely. We will continue to serve the physicians, physician assistants, anesthesiology assistants and trainees by providing assessments, monitoring, presentations and support via phone or video conferencing.  All regularly scheduled meetings and appointments will occur as scheduled. Please call our main line at (303) 860-0122 and press 0 to be connected.  If you are faxing documents to CPHP, please email office@cphp.org instead. Note; this email will only be checked during business hours and should NOT be used for urgent clinical matters.  Please call our clinical pager at (303) 860-8837 for urgent clinical matters and a member of our team will assist you.
Learn about referring yourself to CPHP and what you can expect…
I have already been referred
What to expect at your intake, about the evaluation, and who you will see…
Learn what to expect when you refer someone for an evaluation…
Learn our program's history and the impacts we have made through the community…
Give a helpful contribution to the Spirit of Medicine campaign and donate…
I want to see your research
Learn more about the research we have done on physician health…
Second Installment of Series
"In Your Own Words"
with Jim O'Donnell, MD
Colorado Physician Health Program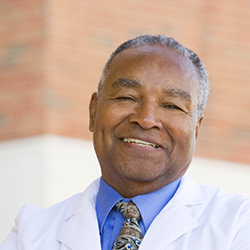 Our Mission
The mission of Colorado Physician Health Program is to promote the health and well-being of physicians and physician assistants through evaluation, treatment referral, support, education and research.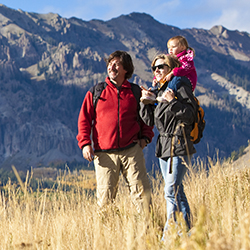 Our Vision
The vision of Colorado Physician Health Program is a healthy Colorado through the well-being of Colorado physicians and physician assistants.
Your contribution to the Spirit of Medicine Campaign can help save careers, families and even lives.
CPHP accepts voluntary and formal referrals. Call us at 303-860-0122 and ask to speak with a Clinician.
CPHP works with residency programs and medical schools to ensure that their trainees can access health assistance early.
Impacting Care, Impacting Community
CPHP helps celebrate COPIC and the Colorado Medical Society's 30 year "Pearl" Anniversary with a Thank You video entitled Healthy Doctors Mean Healthier Patients.
What the Medical Community is Saying About CPHP
Sign Up for Our Newsletter